Perhaps incomprehensible to the uninitiated, an old Volkswagen Beetle is an automotive icon of the purest kind. Defying comparison with other means of transportation, naked data of horsepower, acceleration, and maximum speed is all but secondary to a true enthusiast. Who cares?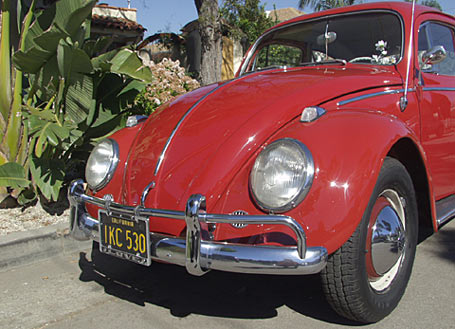 Indeed, ownership of a vintage Bug is almost a mythical experience. If there can be love between man and machine, the Beetle is a most worthy object of desire. After all, it's not just a car; it's a Volkswagen!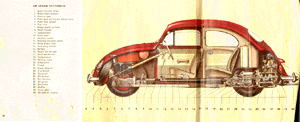 Click on the above image for an XXL-sized view (825 x 335 pixels)
A classic Volkswagen Beetle offers everything one ever needs from a car, not more, not less.
Without black boxes, oxygen sensors, power options, and electronic gimmicks most people nowadays believe they can't live without, it is as pure and basic as one could imagine and thus destined to live forever.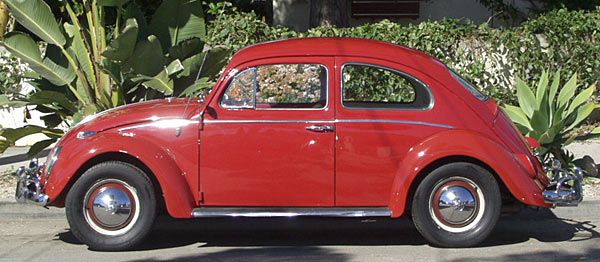 Sadly, since all classic Beetles are meanwhile at least 38 years old, most of these wonderful cars have been eaten alive by the merciless rust devil. Many others were heavily modified by well-meaning but clueless juvenile owners . . . cut, lowered, engine-swapped, and customized beyond the boundaries of good taste, often to the point of no return. Rarely you will find a car that has been allowed to age gracefully. A car that has never been restored, never needed restoration. Just pampered like a favorite child.
Here is one. His name is Keefer.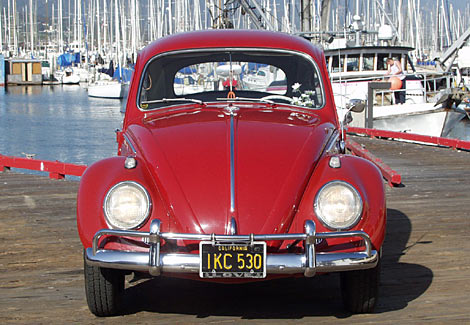 Keefer opened his innocent eyes for the first time on April 9, 1963; he just celebrated his 41st birthday! Would it matter if he was a few years older or younger? Not a bit. He's ageless, strong as the day he was conceived--stronger, actually--and as healthy as a brand new car. And you can bet the farm that he'll look as gorgeous in ten or twenty years as he does today. Can you say the same of your late-model?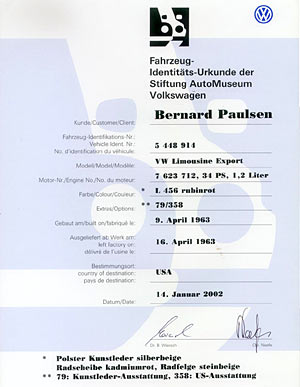 Click on the above image for an XXL-sized view (600 x 850 pixels)
Image above shows Keefer's official Birth Certificate from the Volkswagen Auto Museum. It's the equivalent to Porsche's Kardex and provides irrefutable proof that Keefer still is a 100% matching numbers car, as the engine number *7 623 712*, the paint on body and wheels, as well as the interior and equipment are exactly as recorded on the document!
Click on any of the above images for a full-size view
Speaking of documents, how about a factory data sheet that tells you anything you always wanted to know about your car?
How many horses live under the hood? How about weight, cargo space, fuel tank volume, final gear ratio, and V-max?
You don't know? That's my point, exactly.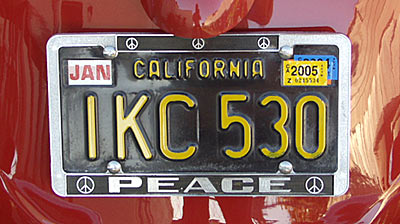 Click on the above image for an XXL-sized view (800 x 591 pixels)
A SoCal resident since new, Keefer spent all of its life in and around beautiful Santa Barbara, California. He still wears his original--and irreplaceable--set of beautifully preserved, 1963-issue, black and yellow California license plates like badges of honor.
I bought Keefer in 2001 from the original owner, a Lady well into her seventies. She bought it new in Santa Barbara when she turned 35. President Kennedy was still alive, landing on the Moon seemed like science fiction, and the Summer of Love, Hippies, and Woodstock had not even been conceived . . .
Speaking of the Flower Power Generation, Keefer wears a set of matching LOVE and PEACE license plate frames, straight from those days!
Click on any of the above images for a full-size view
Few people can claim to have photographed their car's odometer turning over; that's just what I did, on December 23, 2001.
On the left photo the odometer shows 99,999.9 miles; on the right it is a fraction of a second away from turning to 00000.0 miles!
Today, it shows 04810 miles, which are, in fact 104,810 original miles. Keefer has been driven a mere 2,500 miles annually, on average.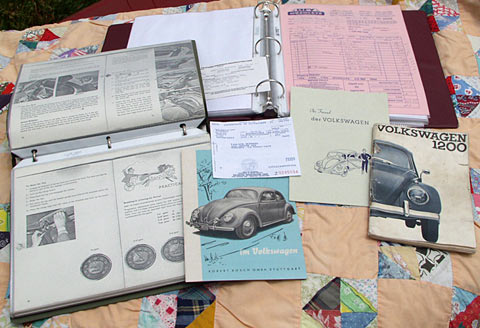 Click on the above image for an XXL-sized view (800 x 567 pixels)
Reading is as educational as it is informative. How wonderful, therefore, that Keefer comes not only with a folder full of records, chronologically ordered and protected by clear plastic sheet protectors, but also quite a few books and brochures, among them the original Owner's Manual and a Repair Manual. Wow!
Click on any of the above images for an XXL-sized view
When considering the purchase of a vintage Beetle, there are two areas of primary importance: the nose (1) and the undercarriage (2).
More often than not, the vulnerable front section shows some signs of accident damage. Not good. Keefer's nose is perfectly wrinkle free and as healthy as it can be.
On the same token, it is almost unheard of that a Beetle can survive 4 decades with a virginal pan. First thing to rust out is the area directly underneath the battery. Here, however, there is no rust anywhere, not even underneath the battery, nor has there ever been any rust. No restoration work or spray can artistry either: what you see is 41-year-old unmolested factory undercoating, protecting a like-new factory pan. How do I know? Click on the image above and have a close look at the sections where part of the undercoating has disappeared: shining through is gloss black factory paint!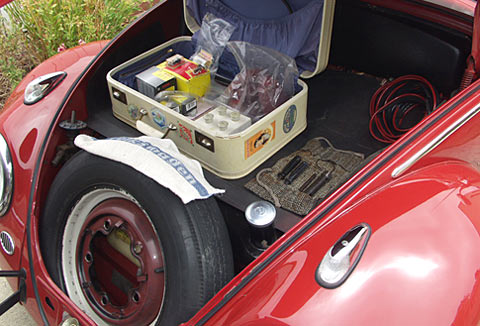 Click on the above image for an XXL-sized view (800 x 600 pixels)
Now let's get in medias res and examine Keefer top to bottom, inside and out. Since we're upfront anyway, let's start with the trunk, which--not surprisingly--is as original as it gets.
Wiring cover is the original cardboard one, not a reproduction item made of plastic. Same applies for the beautifully preserved trunk liner.
There's the original jack (with the blue base), the original and complete tool kit in the original fabric roll. Spare still has the old bias ply tire mounted.
Oh, yes, and there's literally a suitcase full of parts that go with the car!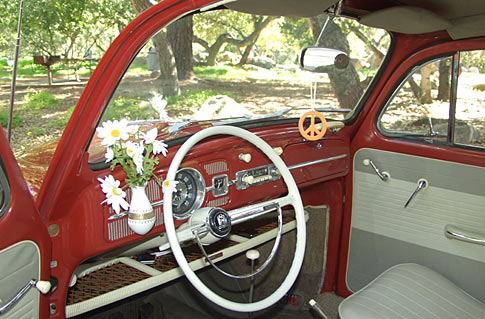 Click on the above image for an XXL-sized view (800 x 527 pixels)
Next thing we'll examine will be the interior. Let's start with the dashboard, shall we?
Everything you see here is original 1963, save for the flowers in the bud vase. The windshield is original. The Bendix Saphire 1 AM-radio is original. Even the flocked cardboard liner in the glovebox is still original. Oh, yes, and the bamboo shelf is a German Ra-"Bambus " original as well!
There is simply no way to restore a car and preserve its original charme. It is irreplaceable. Excellent unrestored cars have become highly sought after as more and more collectors realize this fact.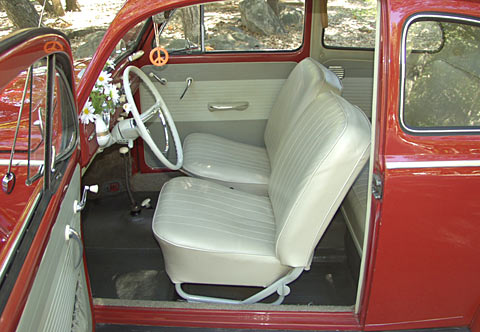 Click on the above image for an XXL-sized view (800 x 600 pixels)
Superbly preserved gray, two-piece rubber floor mat is original, not reproduction. Door panels--flawless throughout--are also the originals. Headliner had one section replaced, many, many moons ago. Seats were also untouched when I got the car but showed signs of wear, which is why I, although hesitantly, bought a correct replacement set from BFY Obsolete Parts and had it expertly installed.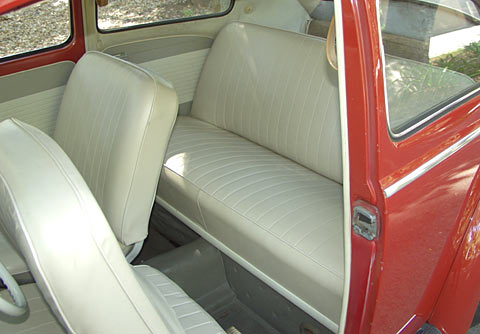 Click on the above image for an XXL-sized view (800 x 600 pixels)
Rear cabin area is equally stunning. Rear seats appear unused, the original side panels are as nicely preserved as the original square weave carpeting in the luggage compartment.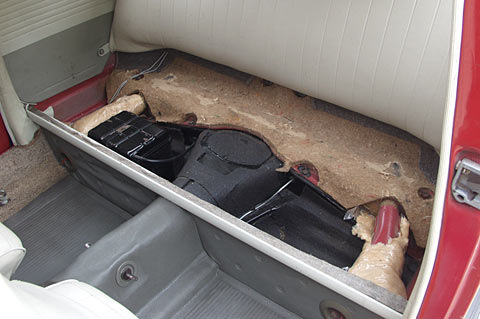 Click on the above image for an XXL-sized view (800 x 600 pixels)
The same holds true for the original gray plastic dividers underneath the rear seat. Original battery cover, still showing glossy factory paint, features the original metal strap and the original wood separators underneath. I have never encountered another Beetle that still has those, and trust me, I've been looking!
| | | | |
| --- | --- | --- | --- |
| | | | |
| Original Doorpanel | "Ra-Bambus " Shelf | Original Battery Cover | Stamped VIN |
| | | | |
| Oil Sticker | Aged Glass Blinker | Old Euro Headlight | Colored Fender Beading |
Click on any of the above images for a full-size view
But it doesn't stop here. The sheer amount of crisp details is simply mindboggling, to say the least. Let's have a closer look at some of them (starting on top, from left to right):
Original door panels are heat-pleated and consist of 3 different materials. They cannot be reproduced like this.
Original Ra-Bambus bamboo shelf provides plenty of storage space upfront. Why don't modern cars have those anymore?
Original battery cover and metal straps, still showing shiny original gloss black paint!
Stamped factory VIN on center of rear tunnel. Usually rusted beyond recognition, here it still looks like new.
Service sticker dated August 12, 1997, documenting mileage of 96,552 at the time
Original clear blinker glass, aged like a fine antique. No reproduction lenses anywhere on this Beetle!
Priceless, literally: ultra-rare 1950s European Headlights with Art-Deco BOSCH lenses and "VW" mark on top!
VW esoterica: original VW fender beadings in exterior-matching Ruby Red body color!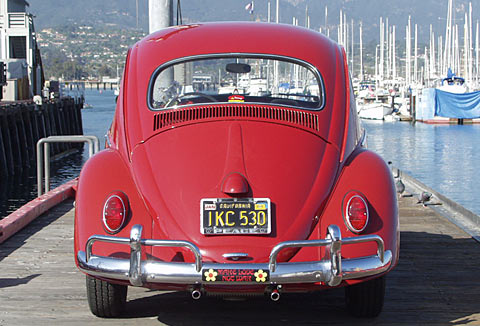 Now, let me guide your attention to the back of the car. Let's have a closer look at the engine compartment, shall we?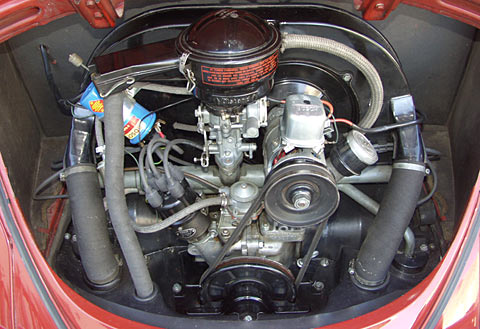 Click on the above image for an XXL-sized view (800 x 567 pixels)
First thing you notice is how clean everything is. Not restored clean, but original clean! Check out the original firewall mat. Check out the original air hoses and unique clamps. Yes, they are from 1963, as reproductions are not being made. Check out the original air cleaner: still glossy black, featuring the original decal!
Look at the coil: 6 Volts. Yes, it's still a 6-Volt Bug, thankfully.
Engine has been taken care of by German Old School Master Mechanic Dieter; it starts instantly, burbles happily, and is so strong, you'll have trouble believing that it is the original, matching numbers 1200cc engine.
Click on left image above for a full-size view
Well, it is, and it is not. See, when the original power plant needed to be rebuilt, I was facing a dilemma. I wanted to keep Keefer as original as possible, but I also wanted to be able to drive him on the Freeway, comfortably at 75mph and for long distances, without stressing the engine or myself. To achieve that goal, I had to spend big bucks.
Click on any of the above images for a full-size view
The original 1200cc case was carefully machined in order to accept 1600cc internals. That's so unusual, elaborate, and expensive to do on a Volkswagen "small block," that I've never heard of anybody doing that. A set of German KOLBENSCHMIDT pistons and cylinders was added, topped by the original single port heads. The original, 41 year-old SOLEX 28PICT carburetor was reused, as was the original air cleaner.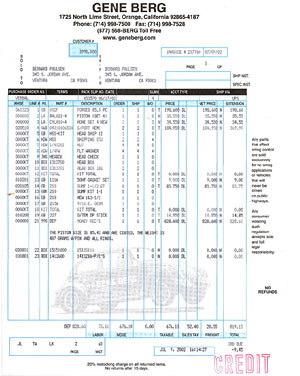 Click on the above image for an XXL-sized view (621 x 778 pixels)
However, all this wasn't good enough. Keefer was running strong, but not quite as smoothly as before, which was unacceptable to me. Thus, in July of 2002, I had the engine rebuilt again, this time using forged MAHLE pistons and cylinders, lightened and balanced to exactly 487 grams each (see invoice). Furthermore, as suggested by engine guru Clyde Berg himself, I added a set of BERG single port semi-HEMI heads, made to order, and a Berg aluminum deep sump oil pan to aid engine cooling.
I now have about $4,000.00 invested in the engine alone, but it was well worth it. After all, this might be the only Volkswagen on the face of the planet that still has its matching numbers 1200cc engine, which is in fact a 1600cc HEMI power plant in disguise!

Click on the above image for an XXL-sized view (807 x 547 pixels)
Driving Keefer is a pleasure that needs to be experienced in order to be fully appreciated!
Turn the ignition key and the 4-cylinder boxer starts instantly, accompanied by the unique sound only a 6-Volt starter can provide. Idle is stable, the sound simply heavenly. Throttle response is crisp, much like that of a contemporary Porsche 356. Step on the gas pedal and Keefer effortlessly scoots along, strong enough to run with the big boys in the passing lane!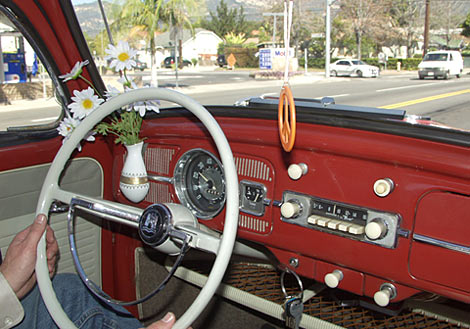 Click on the above image for an XXL-sized view (800 x 600 pixels)
Handling is precise, shifter engages with the characteristic "click" of a Ferrari gate shifter.
Everything on this car is clean, tuned, balanced, and well taken care of. Keefer gets thumbs up wherever we take him, even in VIP-studded Montecito, the part of Santa Barbara Oprah Winfrey chooses to call "home." Fuel consumption? About one gallon every 30 miles!

Click on the above image for an XXL-sized view (784 x 509 pixels)
Though many people may not be aware of it, finding a classic car in Keefer's condition is something that happens only once or twice in the life of a (Californian) enthusiast. You'd have to look at dozens, maybe hundreds of promising candidates to find one that has been allowed to age this gracefully.
Keefer is not an entry-level Bug, as much as he's not a trailer king who can only be touched with white gloves. He's a true survivor who enjoys to be driven. You'll be able to show generations of snot-nosed kids what an original Beetle really looks like.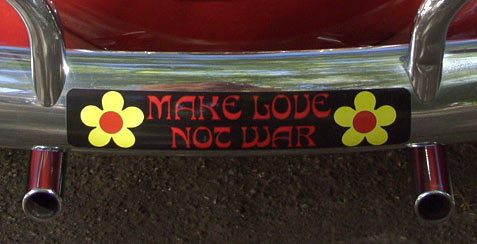 Keefer is currently licensed, registered, and fully insured, ready to be driven anywhere, across the country if that's where you live. I trust him to perform flawlessly, like a Swiss watch, with just minimal, regular maintenance. He deserves a good home, and the most loving owner in the world. Will that be you?
Addendum:
Keefer found a new home in 2004. He's still part of his adopted family.