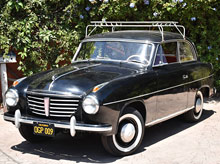 1957 Goliath GP900e
Super rare German post-war car with fuel-injected 2-cylinder 2 stroke engine!
$6,900
Have a Closer Look
For Our Latest News and
Updates on Our Inventory
Subscribe to Our Bulletin
Head over to our
We are always on the lookout for new Inventory.
For More Information, CLICK HERE.